Sameer Wankhede: Drugs concealed in Gear Plates, ampoules seized, Nigerian among arrested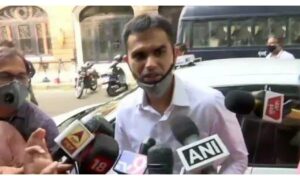 Sameer Wankhede: Drugs concealed in Gear Plates, ampoules seized, Nigerian among arrested
Mumbai- NCB Zonal Head Mr Sameer Wankhede's team launched an operation at Andheri (E), Mumbai and seized 420 gram of Methamphetamine on 27.05.2021.

 NCB Mumbai registered the case in Crime No 50/2021. Three persons including a Nigerian National has been intercepted in said the case
420 gram of Methamphetamine which was concealed in cavity of 02 Nos Pully Gear Plates.

The Methamphetamine was kept in small ampoules each weighing 1 gram approx.

Methamphetamine is a potent central nervous system stimulant that is mainly used as a recreational drug and less commonly as a second-line treatment for attention deficit hyperactivity disorder and obesity